Welcome to the
Ski and Snowboard Club!!!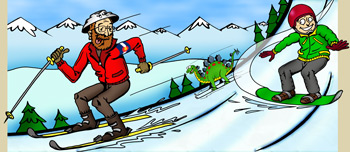 The Jiminy Peak trip has been rescheduled for 1/21/2017
The bus will depart at 12:30 pm.
Please arrive no later than 12:15pm.
Please confirm with
Ms. Petersen,
that you will be
attending the trip.
If you have not confirmed that you be attending you will NOT be permitted on the bus.
If you cannot attend your ticket will be returned to you.
If there is not enough interest the trip will be cancelled.
Packets for the 2016-2017 season
can be picked up in the main office
OR
All paperwork, insurance information, and bus payments
will be collected Friday, December 2nd
in the cafeteria lobby after 8th period.
Our trips this year will be as follows:
1/7/2017 - Jiminy Peak

(cancelled)
1/21/2017 - Jiminy Peak

(rescheduled)
2/11/2017 - Killington
2/25/2017 - Gore Mountain
All trips will depart from and return to the High School parking lot.
Please be at John Jay a HALF HOUR before the departure time.
We will depart for Jiminy Peak at 12:30PM, and depart for Killington and Gore at 6:00AM. WE WILL LEAVE WITHOUT YOU IF YOU ARE NOT PRESENT AT THE SCHEDULED DEPARTURE TIME.
In the case if inclement weather, please listen to Friday afternoon announcements and check the school's or the ski club's website for information.
Parents should be prompt on picking up their child. Parents should be waiting at the school at approximately 11:00 pm on January 21, and 7:30PM on both February 11 and February 25.
Your child will be told to contact you when we are a half hour away from the school in order to further advise return times.
The transportation cost is $155 for all three trips.
Lift tickets are separate and will be collected at a later date.
APPAREL ORDER FORMS ARE AVAILABLE IN THE MAIN OFFICE.
ORDERS MUST BE PLACED BY WEDNESDAY 12/21/2016
LIFT TICKET COSTS:
***Money for Jiminy Peak will be collected Tuesday, January 3, 2017.
It can be
can be left in Ms. Petersen's mailbox in the main office.
It will also be collected
after 8th period in the cafeteria lobby.
Cash should be placed in an envelope with the students' name on the envelope. No loose cash will be accepted.
Money for Gore and Killington lift tickets will be collected prior to departure of each trip by chaperones.
Please bring the exact amount (correct bills, no change required, no coins) for each trip. No checks will be accepted, CASH ONLY PLEASE.
IMPORTANT INFORMATION:
YOU MUST HAVE A HELMET TO PARTICIPATE!!!
LIFT TICKET MONEY IS DUE MORNING OF EACH TRIP & MUST BE CASH!!!
BE SURE TO DRESS WARM (IN LAYERS)
BRING ALL NECESSARY EQUIPMENT LABELED WITH YOUR NAME & SCHOOL NAME. (BRING EXTRA HAT, GLOVES, SOCKS)
BRING A LOCK FOR YOUR SNOWBOARD OR SKIS - EQUIPMENT DOES GET STOLEN!
BRING EXACT LIFT TICKET CASH
BRING MONEY TO FOR LOCKER RENTAL TO LOCK UP PERSONAL BELONGINGS
BRING EITHER A BAGGED LUNCH & SNACKS OR MONEY TO BUY (FOOD IS EXPENSIVE AT SKI RESORTS)
BRING PG RATED DVD'S FOR BUS AND SNACKS / FOOD FOR RIDE HOME
Officers:
Sean Nuzzo - President
Brent Kohl - Vice President
Sri Kumar - Apparel Coordinator
Advisor: Kristin Petersen
kristin.petersen@wcsdny.org