Welcome to Roy C. Ketcham Senior High School
"Dedicated to Excellence"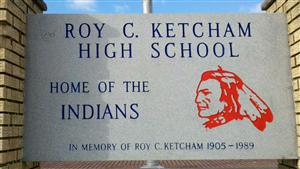 A Message from the Principal, Tom Stella
April 22, 2014
As the 2013/2014 school year comes to a close, students have begun declaring their colleges. Congratulations to the Class of 2014!
J.J. Mulvey to St. John Fisher College

Virup Kannambadi to Binghamton University

Alyssa Minnucci to Albany College of Pharmacy

Kathryn Lovell to Rensselaer Polytechnic Institute

Lucy Avampato to Dutchess Community College

Samantha O'Meara to University at Buffalo

David Johnson to the College of Saint Rose

Shane Barsallo to SUNY Cortland

Tina Jing to Cornell University

Ameera Bhanji to the College at Brockport

Emma Savas to St. John Fisher College

Shirley Machado to SUNY Albany

Kevin Powell to the U.S. Army

Chris J. Whitney to the U.S. Air Force

Keith Anderson to SUNY Albany

Gabrielle Childress to Boston University

Bryan Campos to SUNY Orange

Victoria Lyman to Marist College


Emily Vaculik to the University at Albany

Jen Bideaux to Syracuse University

Logan Mongelli to University at Albany

RJ Schoenfeld to Northern Michigan University

Michelle DeRiggi to University at Albany

Kelly Shields to University at Buffalo

Krystal Au to Baruch College

Ann Lorraine Lim to the College of Mount Saint Vincent

Trishia Hicks to the U.S. National Guard

Ayana Phillip to SUNY Plattsburgh

Ann Nelson to SUNY Plattsburgh

Lea Pilon to Mount Saint Mary College

Anthony Silverence to Ohio University

Mariah Jimenez to University of New Haven

David Emory to Marist College
Ciara Mulligan to Marist College

Shannon LaPerche to University of Scranton
Erin LaPerche to University at Albany

Stephen Savas to Hillsdale College
Chelsea Nkansah-Siriboe to Amherst College

Bryan Caceres to the US Marine Corps
Dominic Slater to the US Air Force
---------------------------------------------------------------------
December 9, 2013
Dear Parents, Students & Members of the RCK Community,
If you have not yet done so we invite to visit the District Website to become more informed on
the District Strategic Planning process.
This important initiative will positively impact the education of our students for many years to come.
Your feedback and input into this process in essential. Thank you.
Tom Stella, Principal
******************************
November 2013
The Wappingers Central School District will be administering a student survey
in collaboration with the Council on Addiction Prevention and Education
of Dutchess County, Inc. (CAPE).
The survey has been developed in partnership with SUNY New Paltz and the
New York State Office on Alcoholism and Substance Abuse Services (NYS OASAS).
If you do not want your child to participate, you must return the form
at the bottom of the letter (which you will find in the link below) and return to the main office
no later than November 26, 2013.
For further information, please click on the link below:
************************
October 1, 2013

Dear Parents, Students & Community Members:

Please come join us for the
RCK PTSA 4th Annual Fall Festival/Car Show
on Sunday, October 13, 2013 from 11 AM until 4 PM.
Click here for more details! -------> 4th Annual RCK PTSA Fall Festival/Car Show - Information
***************************
October 1, 2013
I am happy to announce our Commended Students in the
2014 National Merit Scholarship Program!
Congratulations to

Krista E. Biggs
Abigail N. Cobb
Tina T. Jing
Kathryn R. Lovell
Jennifer Ren
Camille Weidner

A spokesperson for NMSC commented, "The young men and women being named Commended Students have demonstrated outstanding potential for academic success. These students represent a valuable national resource; recognizing their accomplishments, as well as the key role their schools play in their academic development, is vital to the advancement of educational excellence in our nation. We hope that this recognition will help broaden their educational opportunities and encourage them as they continue their pursuit of academic success."

On behalf of myself and the Roy C. Ketcham staff and community,
I would like to congratulate these students on their academic success!
**************************
September 17, 2013
Thank to you to all who attended today's World Cafe!
We had a great turn out and we appreciate your taking the time
to have a discussion with us on ways to further improve
our school in the future.
**********************
Do you remember what you were doing on this date twelve years ago?
Those of us of a certain age can recite exactly where we were and what we were doing on that fateful morning!
On this date, 12 years ago four passenger airliners were hijacked by 19 al-Qaeda terrorists so they could be flown into buildings in suicide attacks. Two of those planes, American Airlines Flight 11 and United Airlines Flight 175, were crashed into the North and South towers, respectively, of the World Trade Center complex in New York City. Within two hours, both towers collapsed with debris and the resulting fires causing partial or complete collapse of all other buildings in the WTC complex, as well as major damage to ten other large surrounding structures. A third plane, American Airlines Flight 77, was crashed into the Pentagon (the headquarters of the United States Department of Defense), leading to a partial collapse in its western side. The fourth plane, United Airlines Flight 93, was targeted at Washington, D.C.,[2] but crashed into a field near Shanksville, Pennsylvania after its passengers tried to overcome the hijackers. In total, almost 3,000 people died in the attacks, including the 227 civilians aboard the four planes. The great majority of these civilians were Americans, but there were also citizens of other nations who lost their lives. It also was the deadliest incident for firefighters in the history of the United States.
The loss of civilian lives as a result of this heinous crime against humanity is unprecedented in our history, far exceeding the tragic attack on Pearl Harbor where 2,402 Americans were killed, the great majority of whom were American soldiers.
This morning, our Marquee sign has a very important message on it. It reads, "We, Remember 9/11"! As you leave today, take a look at it and personally reflect on what that means to you! At this time, let us stand as one proud school in solidarity and respect for these innocent lives who were lost on September 11, 2001.
Please stand for a Moment of Silence! "We Remember 9/11!"
~~~~~~~~~~~~~~~~~~~~~~~~~~~~~~~~~~~~
A warm welcome to RCK to the class of 2017!
I thank all who attended our Freshman Class orientation on Monday, August 26th. We enjoyed meeting so many of you! As I stated at orientation and, as our school slogan, "Dedicated to Excellence", denotes ,success depends on every student's commitment to excellence.
The likelihood of achieving success in high school is greatly enhanced with good attendance, getting involved and working to the very best of our abilities!
If you missed the Orientation or would like to refer to any part of the presentation, please see the attached Power Point Presentation by clicking here ------> Freshman Orientation - August 26, 2013
We look forward to a great year and a great high school career ahead.
~~~~~~~~~~~~~~~~~~~~~~~~~~~~~~~~~~~~~~~~~~~~~~~~~~~~~~~~~~~~~~~~~
May 22, 2013
Thank you for your support of the WCSD budget!
~~~~~~~~~~~~~~~~~~~~~~~~~~~~~~~~~~~~~~~~~~~~~~~~~~~~~~~~~~~~~~~~~
Dear Parents/Guardians & Members of the RCK Community:
Effective immediately we have initiated more enhanced security measures. Though we welcome our parents, guardians and community members to our school, please be aware that in order to enter our school visitors must provide photo identification at our single point of entry door. This will continue to be the protocol during the course of the instructional day. Once admitted into the building you are required to sign in and display identification, as usual. In light of recent events, I am certain you will understand and appreciate these enhanced security measures.
As always, we welcome our parents, guardians and community members to our school.
Sincerely,
Tom Stella, Principal
********************************
12/17/12
Good afternoon,
Just a brief note to let you know that we had a good day at school today. I met with my staff early this morning and reviewed our safety protocols. I addressed the student body during Period 2 regarding our safety plan. We had a very well-received moment of silence in memory of all those who lost their lives on Friday.
I called for a school-wide moment of Silence with these words: "As a caring community we are moved and greatly saddened by the tragic events which took place in Newtown, CT. on Friday. In remembrance of all these innocent students and individuals, let us please join together as a caring learning community for a moment of respectful silence."
In case you have not yet read it, I invite you to read our Superintendent's letter, which is on the District website.
Sincerely,
G. Thomas Stella
Principal
This is a very special time of the year. One that calls for much reflection. I call upon our students to remain vigilant in their studies and to focus on proper planning and preparation.
Students, with your good effort, many of your resolutions will be realized! To our entire learning community, my best wishes for a very healthy and happy Holiday season!
********************************
********************************
Congratulations to Masque & Mime for the wonderful production of "To Kill a Mockingbird." The play was truly brilliant and a wonderful example of RCK's commitment to excellence not only in academics & activities, but in the development of young citizens of good character!


********************************

Many thanks to all who came out to the RCK 3rd Annual Fall Festival & Car Show.
All our clubs and athletic teams appreciate your support!
.
********************************
Congratulations to our school and our community for a wonderful
Homecoming Weekend!
We invite all to our 3rd Annual Fall Festival/Car Show on
Sunday, October 21, 2012 which will take place
in the parking lot of our school from 11:00 a.m. until 4:00 p.m.
********************************
Congratulations to Mr. Manzo, Mr. Luhmann, and the RCK Greenworks Club
for getting the RCK Weather Station up and running!
Please click on the link below to our new RCK Weather Data.
This data is realtime from the roof top.
********************************
Congratulations to Masque & Mime!
RCK's Masque & Mime Society is a recipient of a 2012 Dutchess County Executive's Arts Award in the Arts in Education category. Dutchess County Executive Marc Molinaro and members of the arts community will recognize them along with their fellow recipients at a special dinner reception in October at the Villa Borghese in Wappingers Falls.
**********************************

**
The RCK String Orchestra went to NYSSMA Majors Ensemble Adjudication last Thursday afternoon at Level 5 (out of 6 levels of difficulty) and received the highest possible rating - Gold with Distinction. The students are very proud of their accomplishment and we are proud of them as well!
**********************************

**
Congratulations! The Wappingers Crew Club's Varsity Girls and Boys have qualified as Spring 2012 NYSSRA (New York State Scholastic Rowing Association) Scholar/Athlete Teams!

**********************************

**

A special message to WCSD voters:
On behalf of our school and our stud
ents, thank you for your support.
**********************************

**

CONGRATULATIONS TO RCK'S WORLDQUEST TEAM!
Congratulations to Viraj Parekh, Keith Loh, Lindsay Ferber, Ray Bartolucci, and Hilary Yao who won the WorldQuest competition that took First Place this past Saturday. The WorldQuest competition is an annual event sponsored by the Mid-hudson World Affairs council designed to encourage students to become citizens of the world by testing their knowledge in matters of international importance. This year, there were two teams representing Ketcham High School. Our teams came in first and second place. We competed against 12 other regional high schools including: Arlington (3rd place), Washingtonville, Cornwall, Spackenkill, Roosevelt, and several others.
The winning Ketcham team will go on to compete on the national level in Washington, D.C. this April. This is the 3rd year in a row that Ketcham has won the regionals and fifth time since the inception of the competition (2005) that Ketcham has won.
The team taking first place consists of: Viraj Parekh, Keith Loh, Lindsay Ferber, Ray Bartolucci, and Hilary Yao. They will be going to D.C. for national competition. The 2nd place team consists of: Breanna LeChase, Graham Bass, Fraser Leslie, Akiko Endo, and Patrick Alderson.